Well, if we look around, we will find that WhatsApp is right now the most used instant messaging app. The great thing about WhatsApp is that it's available on almost all major platform including Android, iOS, web, etc. Facebook now backs WhatsApp, and it receives frequent updates. Each update brings new features which further enhances the WhatsApp experience.
Right now WhatsApp has tons of features like sticker support, voice & video calls, GIF support, etc. While WhatsApp for Android already packs some great features, there are few Android apps that can make it even better.
There are plenty of Android apps available on the Google Play Store that works with WhatsApp to provide more features. So, in this article, we are going to list down some of the best Android apps for WhatsApp users. These apps are usually meant to offer different utilities, but they can surely fill in the voids one may find in WhatsApp.
So, let's explore the list of must-have Android apps for WhatsApp users 2019
Well, we need to admit that there are times when we want to convert the WhatsApp voice messages into the text. Let's say you are in a crowded place like metro and don't have earphones. So, in such a situation, Transcriber for WhatsApp will surely benefit you because it transcribes the audio message for you and shows the text version of that voice message.
Well, AutoResponder for WA is one of the must-have apps for WhatsApp business users. The app will greatly benefit those who need to send an immediate reply to their clients. The app allows users to set auto-response messages for selected contacts or for everyone. The app is available in both versions – Free and Premium. The free version has some limitation, but for personal use, the free version offers more than enough.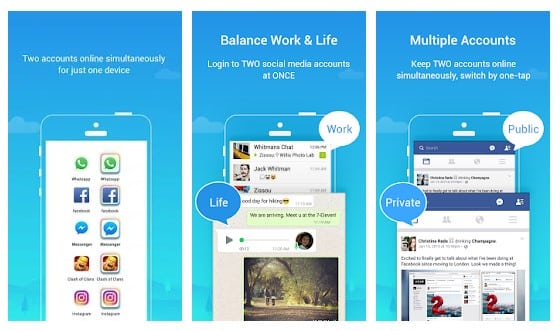 Parallel Space is one of the best Android apps that Android users would love to have. The great thing about Parallel Space is that it creates the clone version of popular Android apps including WhatsApp. Since WhatsApp allows users to use only one account from one smartphone, Parallel Space can be used to clone WhatsApp to run multiple accounts on a single Android device. So, Parallel Space is another useful Android app for WhatsApp users.
Everyone who wants to secure their WhatsApp app from prying eyes needs to try App Lock. As the name of the app says, App Lock is an Android app that allows users to lock any specific apps from the App Drawer. Since millions of users now use WhatsApp, people do share some sensitive information on WhatsApp. So, if you want to keep your WhatsApp chats safe, then you can use App Lock to password protect your WhatsApp Android app.
Well, Notifly is one of the unique app that every Android users would love to have. Guess what? Notifly provides users a new way to read and reply to the notification. With Notifly, you no longer need to quit your current app to reply the WhatsApp chat. Notifly opens the WhatsApp conversations in the form of bubbles which allows users to reply to the messages without switching apps. So, Notifly is another useful app that WhatsApp users can have.
SKEDit Scheduling App is one of the best and easy-to-use WhatsApp scheduling app that you can use right now. The best thing about SKEDit Scheduling App is that it helps users to stay organized by scheduling and planning all form of communication. Not just WhatsApp Messages, SKEDit Scheduling App can schedule SMS, emails as well. So, SKEDit Scheduling App is another best app that every WhatsApp users should use.
Well, if you are searching for ways to use your own photos as stickers on WhatsApp, then Sticker maker might be the best pick for you. Guess what? with Sticker maker, you can easily create sticker packs for your friends, family, pet, girlfriend, etc. So, Sticker maker is another best Android app that every WhatsApp users need to use.
Well, if you have been using WhatsApp for a while, then you might know that WhatsApp crops or shortens the photo while uploading. You can't use the whole image as a profile photo on WhatsApp. CropShop for Android fixes this issue of WhatsApp users. It allows users to post their pics the way they want on Instagram, WhatsApp, Facebook, and any other social networking platform.
Well, DirectChat for Android allows users to create Chatheads for any app or messenger. If you have already used Facebook Messenger app on Android, then you might already know about the Chatheads. Chatheads provides users a convenient conversation without interrupting your current task. So, with DirectChat, you can easily read and reply to all WhatsApp messages without opening the official WhatsApp app. So, DirectChat is another best Android app that every WhatsApp users should know.
Well, if you are searching for ways to download 30-second videos for WhatsApp status, then you need to give VidStatus a try. Guess what? VidStatus is one of the best video app which can be used to edit, watch, download and share trending videos on WhatsApp. The app is heavily popular on the Google Play Store and its mostly used by WhatsApp users.
Powered by Froala Editor