Google is right now on a mission to implement dark mode on its apps. In fact, most of the Google Apps like Google Photos, Google Search, Keep, Files, etc have already got the dark mode support in their latest updates. If you have been reading tech news for a while, then you might know that Google had made several attempts to render websites in dark mode on Google Chrome.
Now Google has brought a new feature to the Chrome browser that forces all websites to turn dark. Yes, you read that right, Google Chrome just got a new flag to force dark mode across all webpages. The new feature basically enables a black background on all webpages, instead of reverting the colors.
New Dark Mode In Google Chrome Browser
Well, the new feature is present in both desktop and mobile version of chrome. However, the feature is not stable on the Chrome desktop. So, on a computer, you need to use Google Chrome Canary browser to enjoy the new dark mode on web pages. For those who don't know, Google releases all its experimental features to the Canary version first for testing.
On Android, you can use Google Chrome for Android to enjoy the features. The process is the same for both desktop and Android version. You just need to follow some of the simple steps given below to force dark mode on Web Pages in Google Chrome.
Step 1. First of all, download and install the latest version of Google Chrome on your Android smartphone.
Step 2. Once done, open the browser and type in chrome://flags in the URL bar.
Step 3. Now on the Chrome flags, search for 'Android Web contents dark mode'
Step 4. You need to tap on the drop-down menu and tap on 'Enable'
Step 5. Now tap on the 'Relaunch Now' button.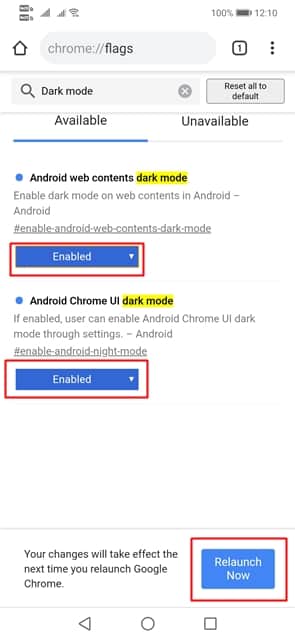 Powered by Froala Editor